SO DAMN EASY GOING / SÅ JÄVLA EASY GOING
Baserad på Jenny Jägerfelds hyllade roman.
18-åriga Joannas hjärna är som en blinkande nöjespark under högsäsong, och för att funka normalt behöver hon ADHD-medicin. Som kostar pengar. Som inte finns. Joanna tvingas bli kreativ för att få fram pengar. Och mitt i allt dyker den charmiga och självsäkra Audrey upp, som får Joannas hjärta att fullkomligt explodera.
---
---
Festivaler och priser/Festivals and awards
2022
Göteborg Film Festival, Sweden, Jan/Feb – Nominee Best Nordic Film + opening film of the festival
BUFF Malmö Film Festival, Sweden, March
Seattle International Film Festival, USA, April – Nominee Best Feature
Inside Out, Canada, May
Oslo Pix Ung, Norway, June
Frameline San Francisco LGBTQ+ Film Festival, June – Winner Jury Award Outstanding First Feature
Scandinavian Film Festival, Australia, July
The Norwegian Film Festival Haugesund, Norway, Aug
Espoo Cine, Finland, Aug
Oslo Pix, Norway, Sep
Faroe Islands International Minority Film Festival, Faroe Islands, Sep
Film by the Sea, The Netherlands, Sep
Luststreifen, Switzerland, Sep
Out on Film, Atlanta, USA , Sep/Oct– Winner Jury Award Best First Feature & Best Performance
ImageOut; Rochester LGBT FF, USA, Oct
Queerscope Independent German Queer Film Festivals, Oct – Winner QueerScope Debut Film Award
LUCAS International Film Festival for Young Film Lovers, Germany, Oct
SCHLiNGEL – International Film Festival for Children and Young Audience, Germany, Oct – Winner The Club of Festivals Award Youth
Florence Queer FF, Italy, Oct
Mix Copenhagen, Denmark, Oct
Outshine Film Festival, Fort Lauderdale, USA, Oct
Dayton LGBT Film Festival, Ohio, USA, Oct
Slovak Queer Film Festival, Slovakia, Oct
Perlen Queer FF, Germany, Oct
Vinokino Helsinki, Finland, Nov
Juniorfest – International Film Festival for children and youth, Czech Republic, Nov
Nordic Film Days Lübeck, Germany, Nov
Noordejlijk Film Festival, The Netherlands
Braunschweig International Film Festival, Germany, Nov – Winner ECHT – Queer Film Award
Northern Film Festival, The Netherlands, Nov
Melbourne Queer Film Festival, Australia, Nov
Scanorama, Lithuania, Nov
Pink Screens Film Festival, Belgium, Nov
Tallinn Black Nights Film Festival, Estonia, Nov
Arktisen Upeeta, Finland, Nov
Ljubljana LGBT Film Festival, Slovenia, Dec
2023
Tromsø International Film Festival, Norway, Jan
Queer Screen 30th Mardi Gras Film Festival, Sydney, Australia, Feb/March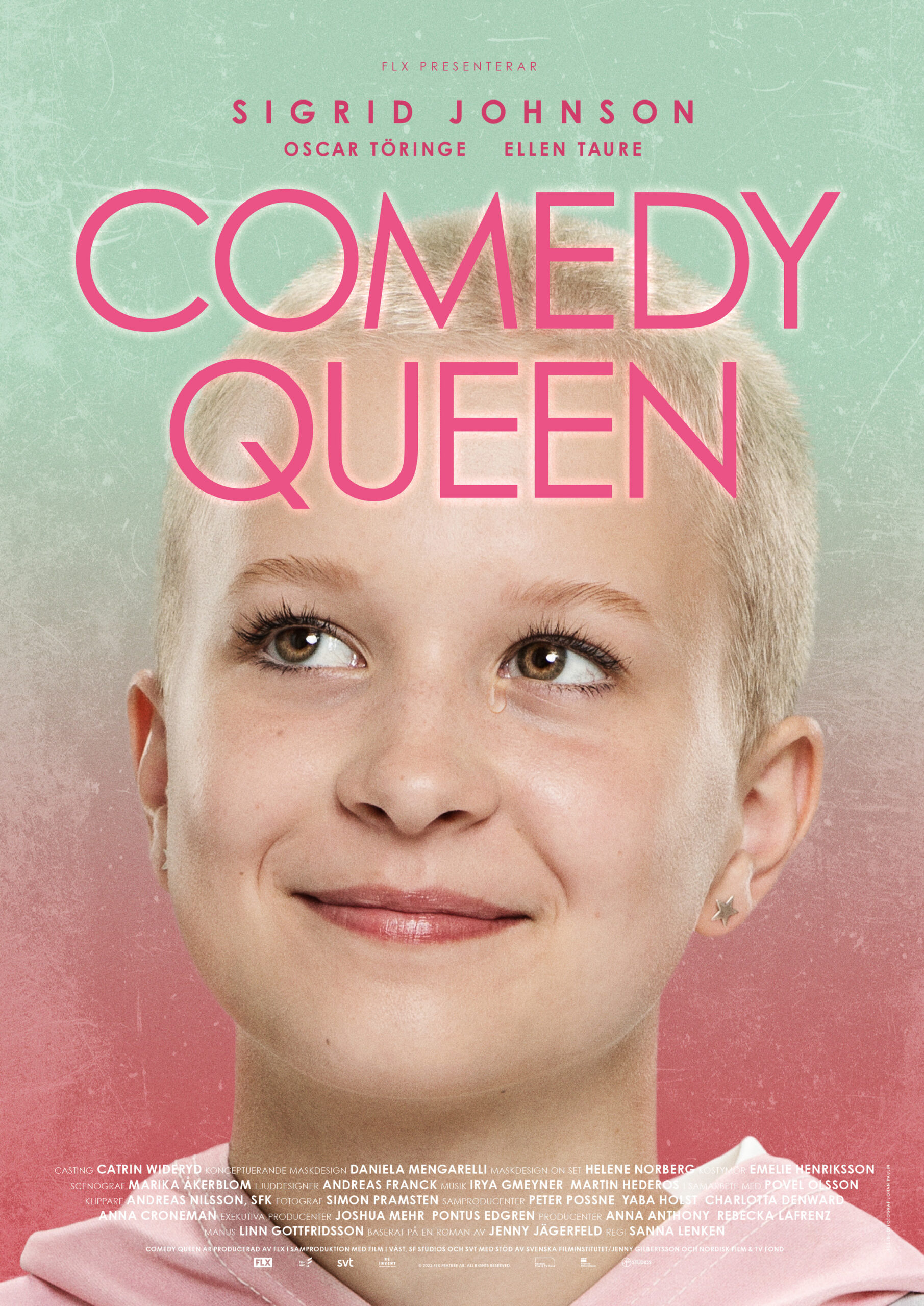 Bakom ögonen bränner tårarna. 13-åriga Sasha har bestämt sig för att bli ståuppkomiker. Mest av allt vill hon få sin pappa, som gråter i duschen när han tror att ingen hör, att skratta. Hemma påminner allt om mamma som inte längre lever och bakom ögonen bränner de livsfarliga tårarna. Men Sasha vägrar gråta. I hemlighet skriver hon en lista på allt hon måste göra för att överleva sorgen: raka av sig håret, sluta läsa böcker, tacka nej till världens gulligaste hundvalp och framförallt, bli en – comedy queen.
---
---